Rooibos Vanilla Chai Iced Tea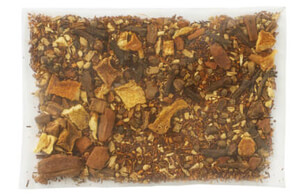 Full-leaf tea in pouches that make iced tea easy and delicious. Simply place overnight in a pitcher of water. Awake to find a tea rich in flavor and aroma, at a price that's a fraction of the supermarket-bought teas. For quicker preparation, steep in hot water for five minutes and add ice. It contains herbal tea from South Africa with spices reminiscent of a Masala chai. Naturally caffeine-free, perfect any time of day. Makes 32 ounces.
Herbal Tea | No caffeine | Quart of water and refrigerate overnight.